Fujian Maritime Transportation Vocational College Panama Maritime Training Center was established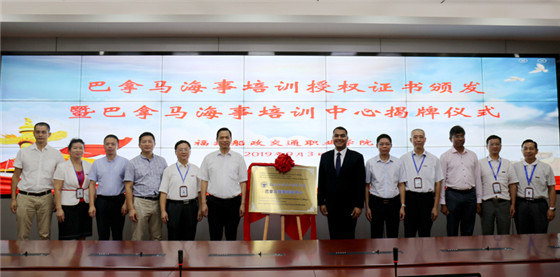 On September 3, the Panama Maritime Training Authorization Certificate and the opening ceremony of the Panama Maritime Training Center were held in the North Campus of Fujian Ship Administration Vocational College. Wang Wei, deputy director of the Provincial Department of Education, Lin Qingqing, deputy inspector of the Provincial Department of Transportation, Jaen Celada (Hahn), deputy consul general of the Consulate General of the Republic of Panama in Shanghai, and Malov, the head of the British Oceanic Maritime University and Maruf Muhammad Jahirul Islam, Managing Director, Ocean Maritime Academy, Bangladesh attended the ceremony.

  At the ceremony, Jaen Celada said that the Panama Maritime Authority has been committed to improving the quality of seafarers' education and training, and is committed to providing the best services and the best maritime and logistics management. This commitment has been achieved by national policies and relevant laws and regulations. support. The establishment of the Panama Maritime Training Center of Fujian Shipbuilding and Transportation Vocational College is particularly meaningful. I believe that the two sides can use this as a platform to work together and carry out more in-depth cooperation in more fields.

  Wang Wei pointed out that the Republic of Panama is world-famous for the Panama Canal and a barometer of global trade. The cooperation and exchange between Fujian Ship Administration and Transportation Vocational College and Panama Maritime Safety Bureau coincides with the moment and there is much to be done. I hope that the college will take this opportunity to create a new situation in education cooperation.

  Chen Jinhui, dean of Fujian Shipbuilding and Transportation Vocational College, said that the college will focus on Panama Maritime Training requirements, carefully organize, strengthen management, pay attention to quality, and strive to make the college become the most important training base for Panamanian crew certification training in China and even in Asia.

  In recent years, Fujian Shipyard Transportation Vocational College has actively engaged in the "One Belt, One Road" initiative, comprehensively deepened international education exchanges and cooperation, and adhered to "going out" and "please come in" to gradually increase the level and scope of opening up. After being awarded the Panama Maritime Training Authorization Certificate, the institute will become the largest maritime training program outside the Republic of Panama and the only institution in the country that has received the promotion of senior crew members.
See the article from authority here.